Our Signature Professional Development Programs draw upon the collective knowledge of scholars, researchers, and teacher-leaders in the field of literacy development to provide practical instructional routines and learning scaffolds that teachers can implement to foster the development of academic language and literacy. CRLP offers the following Signature Professional Development to support the implementation of CA CCSS for ELA/Literacy. 
All CRLP Signature Programs: 
Meet criteria for professional learning in LCFF, and ESEA's High-Quality Professional Development for Title I, III, V and VII, Part A; and for Title II, Part A and B.
CRLP supports local work addressing LCAP priorities 1, 2, 7, and 8.
Meets ESSA's criteria for High-Quality Professional Development.
 Contact us for more information about our programs!
Student Engagement with Complex Text
Results Academic Language and Literacy Instruction (RALLI) (K-12)
RALLI supports the CA CCSS for ELA/Literacy by providing teachers with an approach to analyzing and planning instruction for complex text aligned with the CA ELA/ELD Framework (2014)
RALLI provides elementary school teachers proven instructional routines for before, during, and after reading of complex text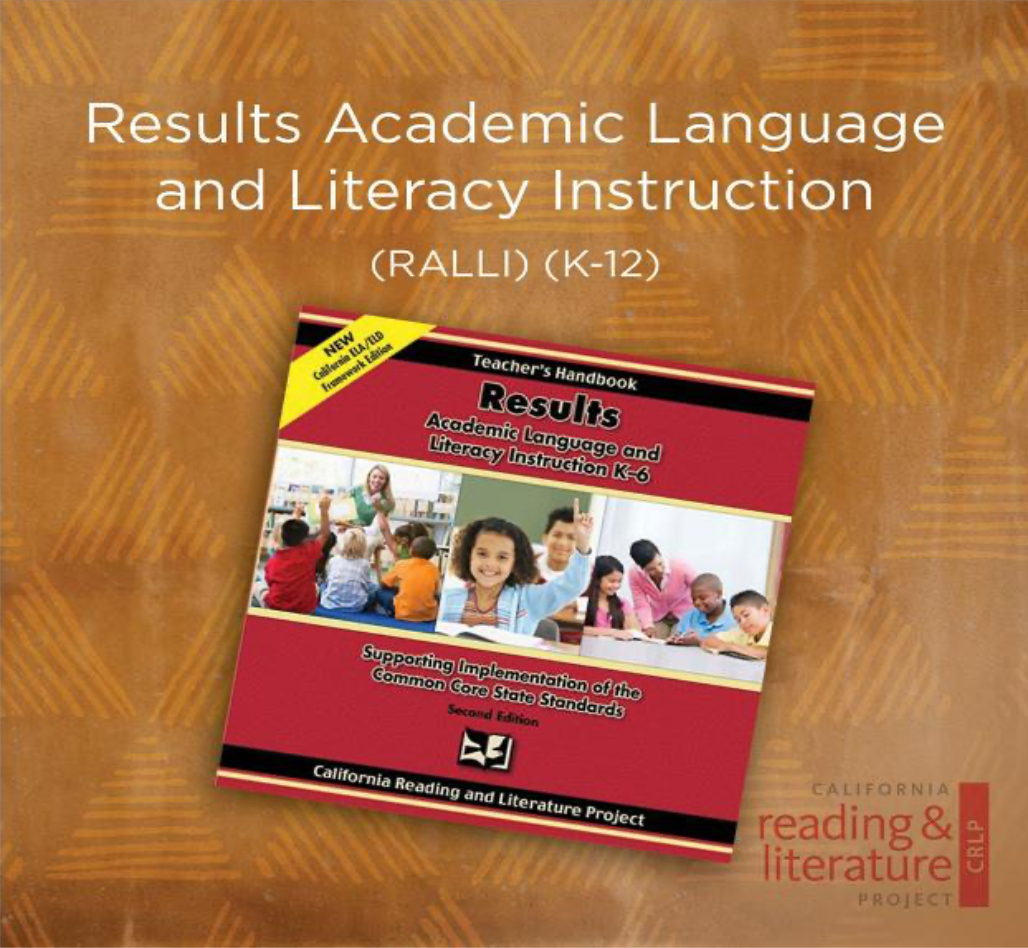 Content Area Language and Literacy (CALL) (6-12)
CA Common Core State Standards require an integrated, interdisciplinary model of literacy that reflects the reciprocal relationship between the language arts and content knowledge (CA ELA/ELD Framewok, 2014). The end goal is for students to independently comprehend complex texts across a range of types and disciplines in order to build strong content knowledge.
CALL offers middle and high school content teachers practical, research-based instructional routines that help student access and engage with a variety of complex text across content areas
CALL provides teachers instructional routines that make challenging text accessible, relevant, and comprehensible to all students, including English learners
CALL promotes reading independence as students learn to systematically employ the reading comprehension routines implemented and modeled by their teachers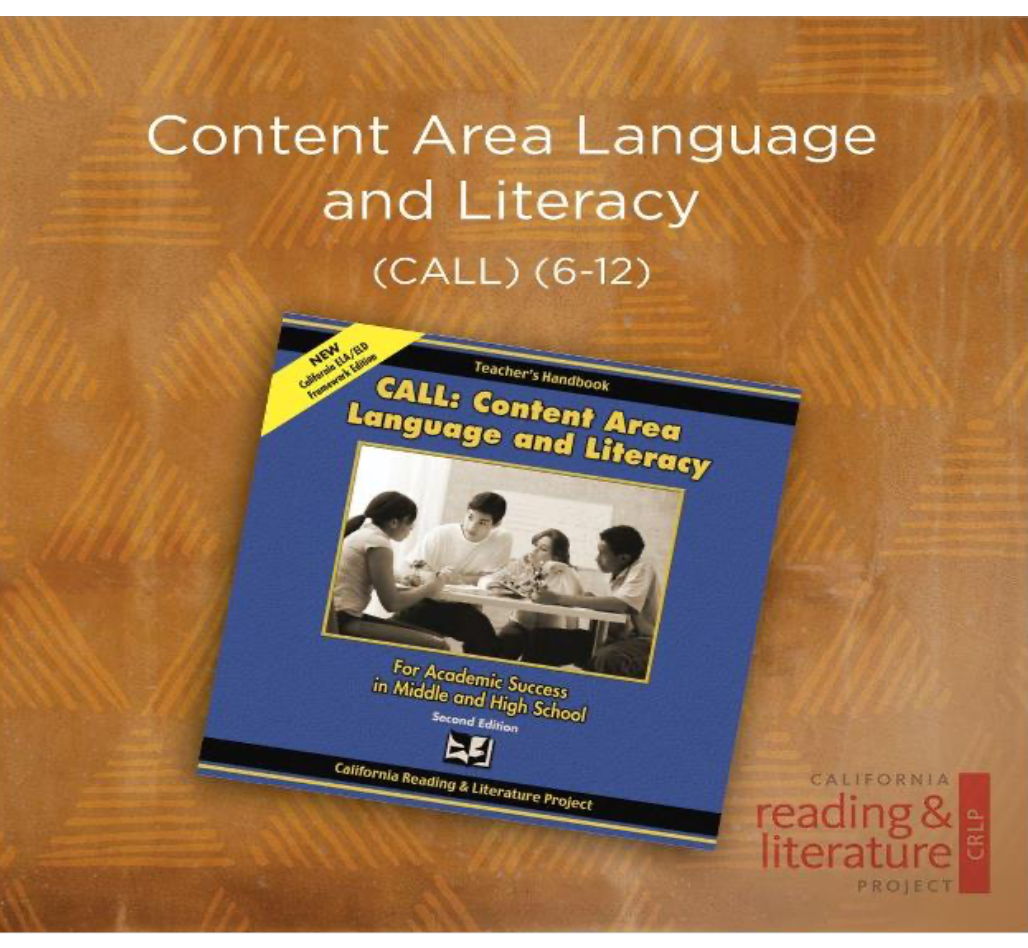 ---
Teaching Reading Foundational Skills
Results Word Recognition and Fluency
Assessment, Instruction, and Intervention- Supporting Implementation of the Common Core Reading Foundational Skills
RESULTS offers an in-depth understanding of the content of the four major components of reading foundational skills: print concepts, phonological awareness, word recognition, and fluency, and how they develop sequentially
RESULTS includes assessments for determining students' proficiency in these standards, which enables teachers to group according to instructional needs
RESULTS provides instructional routines that will help students master these standards using beginning reading materials that meet state guidelines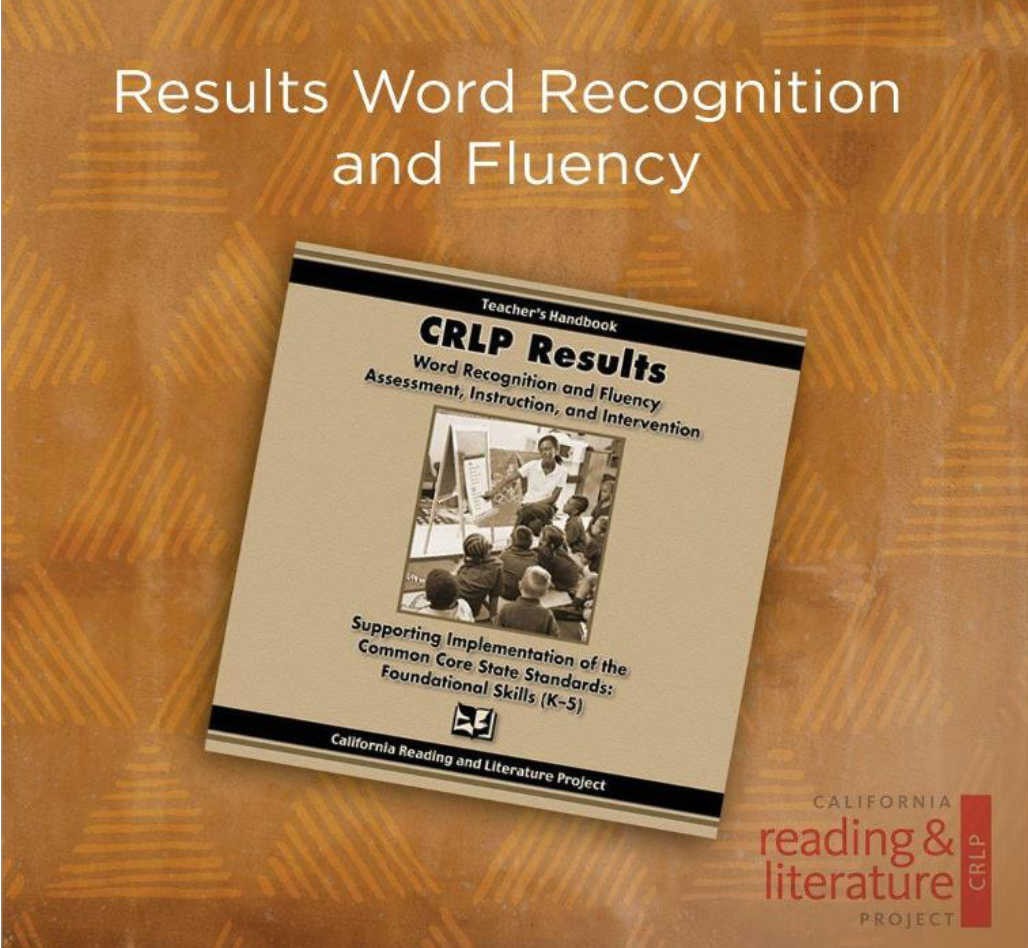 ---
Teaching Biliteracy
Spanish-English Biliteracy Transfer (SEBT)
SEBT offers an approach for teaching English reading foundational skills through coherent biliteracy transfer instruction (K-5) 
SEBT provides guidance for teachers as they help their students reach grade-level literacy in both Spanish and English 
SEBT offers an instructional approach based on what students have learned in Spanish and the level of transferability of skills/concepts between Spanish and English
SEBT includes assessments specifically designed to support the transferability of reading foundational skills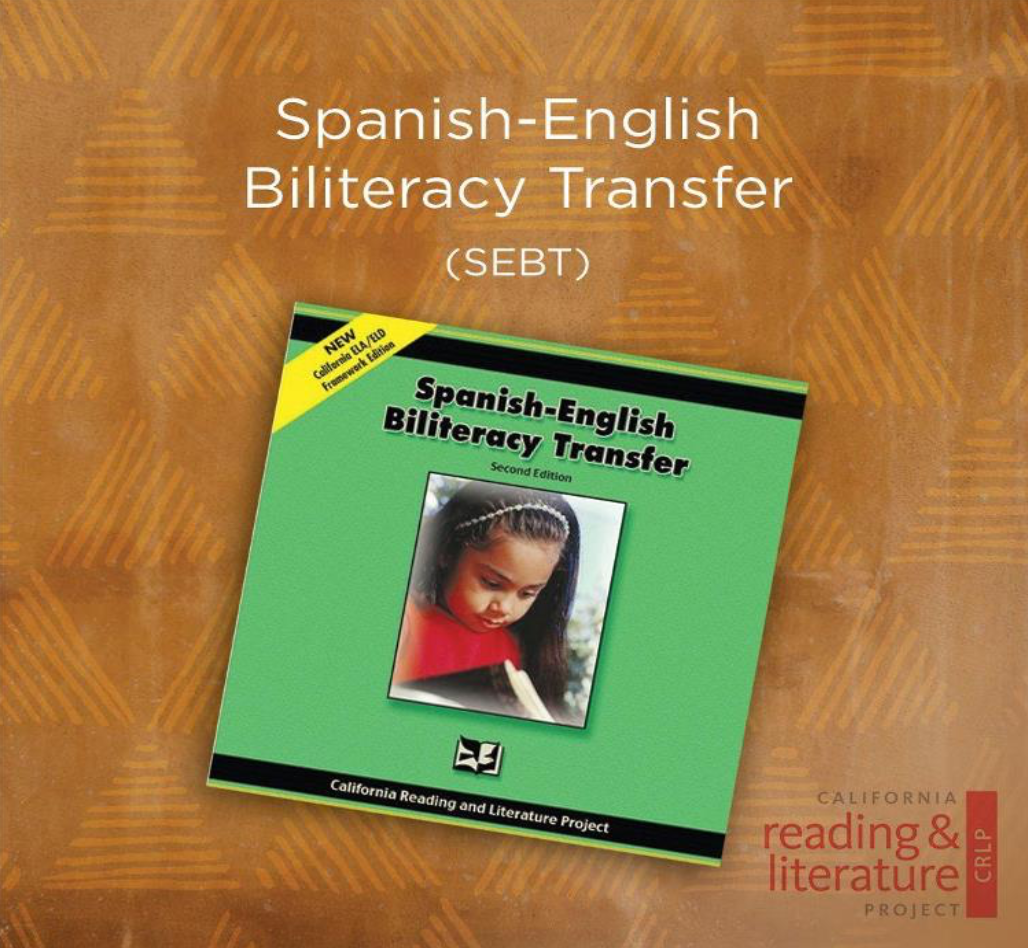 ---
Engaging English Learners
Learning How English Works (LHEW)
Learning How English Works (LHEW) is designed to help unpack and implement Part II of the California ELD Standards. Learning How English Works deepens understanding of the California ELD Standards and guides teachers in planning language lessons for Designated ELD instruction.
LHEW includes considering classroom language demands connected to the CA ELD standards
LHEW provides teachers with a deeper understanding of the text, sentence, and word level academic language of Part II of the CA ELD standards
LHEW offers participation in an instructional routine sequence for teaching language
LHEW allows teachers to experience strategies for teaching text, sentence, and word level language
LHEW provides teachers the opportunity to practice the Student Work Analysis Protocol (SWAP) with a focus on language to set learning goals
LHEW allows teachers to consider how the protocols, strategies, and routines discussed fit into an existing curriculum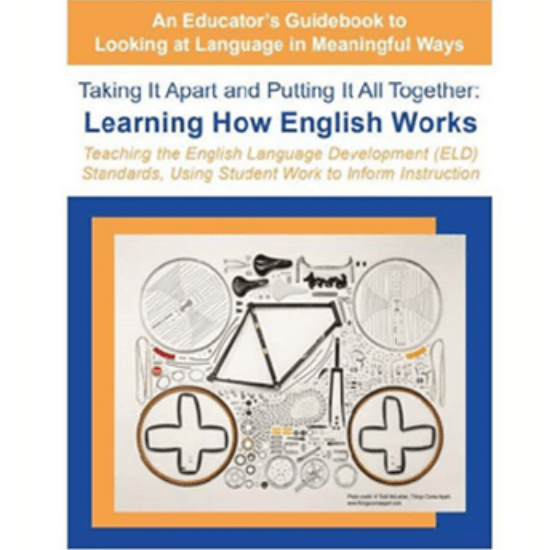 Unpacking and Implementing California's New ELD Standards
Engaging ELs deepens teacher understanding of the CA ELD standards and their relationships to the CA Common Core State Standards 
Engaging ELs explores ways to use the ELD standards for both, Integrated and Designated ELD instruction
Engaging ELs provides teachers with research-based strategies aligned with CCSS and the CA ELA/ELD Framework to increase El access, engagement, and achievement across content areas
A Developmental English Proficiency Test (ADEPT)
An assessment tool for teachers to gain additional knowledge about their students' linguistic resources in English and thus plan instruction that supports their students' academic language development.
ADEPT gives teachers insight into a student's language abilities in order to plan instructional scaffolding during content instruction 
ADEPT offers a tool for understanding students' language needs for Integrated/Designated ELD instruction
ADEPT provides a tool for monitoring student progress in developing English proficiency questions on quizzes
All CRLP Professional Learning Programs support local work addressing LCAP priorities 1, 2, 7 and 8.

All CRLP Professional Learning Programs meet ESSA's criteria for High-Quality Professional Development 
---
Specialty Workshops
Dyslexia Guidelines
Facilitated study sessions designed to unpack the NEW 2017 California Dyslexia Guidelines and provide educators with a general understanding of this new policy. Outcomes of this Professional Development Offering: 
Provide

 

Familiarity with the 2017 California Dyslexia Guidelines
Learn a 21st Century Definition of Dyslexia
Offers

 

an in-depth understanding of the Neuroscience of Dyslexia
Promotes

 

knowledge of the Signs of Dyslexia in Children and Adolescents
Explore

 

resources to Share with Teachers, Administrators, Students, & Parents